Laminate Flooring
High Quality, Durable Laminate Flooring from the Industry's Leading Manufacturers - Visit Carpet Villa & Floors, Houston Area's Floor Experts!
When you want the look of wood in a high-traffic environment, only laminate will do. This material wears much harder than traditional wood while preserving the same look and feel. Laminate is perfect for families with pets, young children, and frequent visitors.
The appealing nature of laminate flooring, combined with its ease of installation and care, has made laminates one of the fastest growing flooring trends. At Carpet Villa & Floors, their flooring experts can help you choose a laminate solution that suits your unique decorating needs.
Beauty of Natural Wood and Stone
Laminate flooring started out as simply a cheaper flooring option for people who wanted the look of wood floors. Now, laminate flooring manufacturers like Armstrong Laminate Flooring, Shaw Laminate Flooring, Mohawk RevWood Laminate , Quick Step Laminate Flooring, among other, have far surpassed the idea of mimicking wood styles and laminates are available in everything from traditional faux-oak planks to varieties that look like natural stone and ceramic tile.
Durable Flooring for Today's Families
It's true - the natural beauty of wood is timeless. But add a dog, a cat, and a couple of kids and that "timeless" beauty can turn into a maintenance headache. For today's busy families whose homes tolerate virtual freeways of traffic, laminate flooring offers unmatched durability and easy maintenance.
Laminate Flooring On a Budget
Cost is perhaps the most appealing attribute of laminate flooring. Not only are the laminate materials less expensive, but installation savings for a new floor are an extra bonus. As a less expensive option than wood or tile, laminate flooring can help people achieve the high-end style they're looking for without the high-end price.
Is a Laminate Floor Right for You?
While installing and caring for laminate floors is simple, choosing the right laminate brand and style can be complicated. With a vast range of quality, warranties, and other options, consult an expert before you select your laminate floor. They're here to help! Call them today at 281-587-9949 for your consultation - they look forward to helping you find the perfect flooring solution. Professional installation also available!Carpet Villa & Floors - Proudly serving the Houston area since 1995.
---
NOTE:
Carpet Villa & Floors does not carry every style of laminate flooring. Check with them first about a particular product or to see if your product choice is available for special order.
---
#LaminateFlooring #LaminateFlooringPlanks #LaminateFlooringTile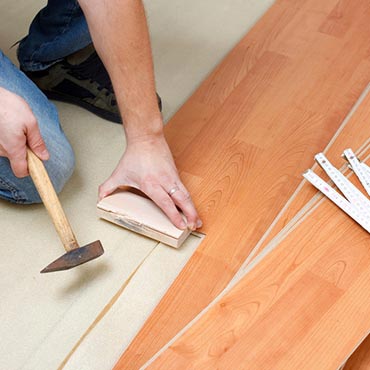 Inspired New Longer Wood Lengths in Laminate from Armstrong Floors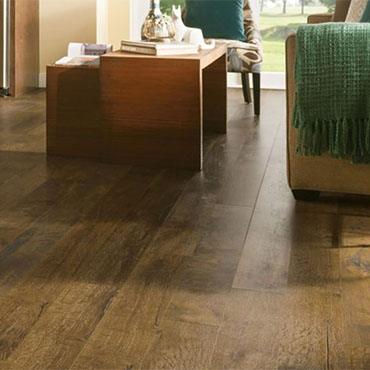 The big news in laminate flooring this year is Rustics Premium™ New England Long Plank, a dramatic line from Armstrong which offers a hand-scraped, oiled finish hardwood look and the longest laminate floor boards to date – over seven feet.
Learn More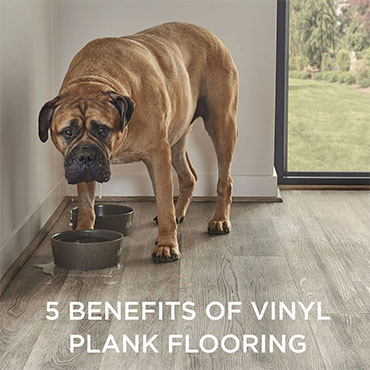 Vinyl plank flooring is quickly becoming a favorite among homeowners for its ability to stand up to scratches, moisture and more. Discover the other reasons it's a great choice for your home in our blog, "5 Benefits of Vinyl Plank Flooring"
---