Rugs 101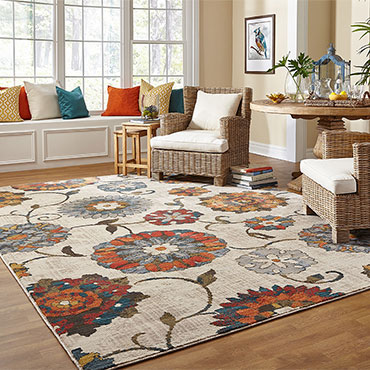 Choosing the right rug can seem overwhelming at first. Not only are there hundreds of designs and color combinations, but selecting the right shape and proper size for your room must also be considered before purchasing. Use this handy guide to learn more about design and construction, as well as tips on selecting and caring for your area rugs.
Basic Design Tips
Rugs help create a mood for your room. For example, a lighter shade of area rug can open up and brighten a space while darker shades tend to create a more intimate mood. Here are a few tips on choosing a rug design:
Traditional versus contemporary rugs - choose a style of rug that complements the colors and interior design of your space. Think of your home's design, your taste in furniture and other design elements to ensure that a particular rug will blend in rather than detract from the room's overall décor.
Pattern on pattern - combining patterns in a room can be done with the right attention. Curtains, upholstery or pillows with small patterns should be complemented with a rug featuring a larger pattern, and vice versa. Florals, plaids, stripes and other patterns can all work together providing they have size distinction and coordinate in color.
Texture adds depth - a rug with looped pile yarns or a combination of cut pile and looped pile yarns atop a smooth surface hardwood floor creates another layer to the design and gives complexity to what would otherwise be a flat palette of colors.
Never try to match the main fabric color - it would be next to impossible to match the exact red found in a pillow. So find the second or third color in the pillow or other design element and match families of colors rather than specific colors.
Traffic is key - rugs with condensed or repeating patterns in darker colors show less dirt and grime over time.
Rugs look bigger on the rack - so you may have to place a displayed rug on the floor to see it's natural position. While time-consuming, this exercise is better than having to return a rug later.
Choosing the Right Size
Choosing the right size of area rug is just as important as selecting a pattern or color. Whether rectangle, square or round, the perfect size and shape of rug is critical to achieving the right look for a room's particular proportions and design. In fact, there's a science to choosing the proper size of rug for a particular application.
Design Types
Rug designs are generally categorized in four different styles:

TRADITIONAL - Traditional area rugs are typically modern-day representations of more formal, time-honored European and Asian designs reminiscent of either Oriental or Persian motifs. Today's traditional designs typically incorporate current color pallets and sometimes an all-over geometric pattern with linear components for a more simplistic design as opposed to Oriental or Persian motifs. On the other hand, traditional designs can include pictorials illustrating elements from nature such as floral patterns.

CONTEMPORARY - Contemporary designs are characterized by stark contrasts, bold use of color and sharp geometric design elements. "Modern" designs tend to be more architectural in feeling, such as art deco designs. They tend to be assertive and bold, offering a strong statement to a room¬s décor. On the other hand, "retro" designs hearken back to styles that were first popular in the 60's and early 70's. They take advantage of a free-form concept, rarely having any rhyme or reason to the flow of the design.

CASUAL / TRANSITIONAL - In a nutshell, transitional designs are a blend of contemporary and traditional. Sometimes referred to as "casual", they tend to be utilized to create the elegance of a traditional design without the formality they often project. Most transitional designs are characterized through the use of open spaces containing a sparse assortment of design components - sometimes traditional and sometimes contemporary.


SOUTHWEST / TRIBAL - are characterized by those design elements common to a specific culture or ethnic group. They typically combine earth tones such as yellow, gold, red and brown in very exacting and structured designs that offer their own interpretation. Southwest or Tribals lend themselves well to rooms that take on specific themes, offering a unique way to tie the common elements of a particular space together.
Construction
The construction of area rugs, though technical, is a key element in researching the integrity of a product. Oriental Weavers utilizes the Face-to-Face Wilton method to produce the majority of our rugs because we've found it offers a number of advantages, such as cost-efficiency and exceptional quality.
One key advantage of the Wilton method is that this type of construction lends itself well to a production process known as "side-weaving". Weaving from side to side rather than top to bottom enables up to 54 colors to be included into a single rug design and delivers an end product with a softer, denser pile. Plus, this process enables the rug's fringe to be woven directly into the backing material for greater durability.
Terms that are good to know:
BORDER - The design that forms the outside edge of a rug and surrounds, or frames, the field.
FRINGE - Extension of the wrap threads on two opposite ends of the rug.
HAND - The tactile aesthetic qualities of carpet and textiles; how it feels to the hand.
HAND-KNOTTED - Tying or knotting pile yarns around woven backing fibers. The resulting face of the rugs is then sheered to a pre-determined height to give the pile uniformity. The more knots per square foot, the more valuable the rug.
HAND-TUFTED - Using a tufting gun, pile yarns are forced through a primary backing material known as a scrim. This process forms a looped pile, and if left uncut the rug is referred to as hand-hooked. If the loops are sheered off to create a cut-pile look, it is referred to as hand-tufted.
HAND-CARVED - The cutting, or carving, of lines or design patterns in a rug during the finishing process to create texture and dimension giving the rug a greater apparent value.
HEAT SET - this refers to a stage in the yarn production process whereby two or more yarn fibers are twisted together and then heated to ensure the yarns remain joined, permitting greater design flexibility and appearance retention.
KNOTS - the knot refers to the portion of the yarn that is attached or knotted to the backing material. With regard to cut-pile, machine-made area rugs, the knots are comprised of two points. In other words, the face yarn is looped in a "U" shape under the backing materials which, when finished, will form two points and one knot. To determine the number of knots in a rug, divide the number of points by two, and vice versa.
PILE - the nap or amount of fiber that makes up the face of the rug.
PILE HEIGHT - pile height is measured as the amount of yarn visible from the top of the face yarn to the face of the backing. Pile height is only measured on cut pile area rugs.
POINTS - a point, when referring to area rug construction, is the tip end of a pile yarn and refers to the number of yarns that make up an area rug. The more points per square meter the denser the construction, and the more detailed the rug. The typical quality area rug will have a minimum of 250,000 points per square meter.
PLY -One or more yarns are twisted together to form a larger piece of yarn. Ply count indicates the number of single pieces that have been twisted together, e.g. two-ply or three-ply.
MEDALLION - The large, enclosed portion of a design, usually in the center of the rug field. Common shapes are octagons, hexagons, and diamonds.
Rug Fiber
There are three basic types of rug fiber - Polypropylene, nylon and wool. All create beautifully-colored, rich designs in a soft, thick, luxurious pile for unsurpassable style, quality and value.
POLYPROPYLENE - is a petroleum-based fiber formed into yarns by a process of extrusion, whereby pre-dyed polypropylene pellets are melted down and extruded into a continuous fiber. Strong and colorfast with a soft wool-like feel, polypropylene resists wear and stains. It is value-driven and the predominant machine-woven synthetic fiber with the power to compete with the best wool rugs.
NYLON - like Polypropylene, nylon is extremely durable, stain resistant and low in moisture absorbency. Nylon fibers feature a soft luxurious texture and rich, lustrous appearance.
WOOL - noted for luxury and softness, wool has a high build of all natural fiber. In fact, it's natural ability to repel water and resistance to breaking and compressing makes it a very popular material for higher-end rugs.
A great advantage of polypropylene and nylon rugs is that these non-porous fibers are essentially stain-proof and resistant to soiling from almost any chemical. Also, both types produce little if any shedding and, being synthetic they are less likely to affect those who struggle with allergies
Care & Cleaning
Oriental weavers rugs are manufactured to last for years to come, but as with all things, care and cleaning will prolong the life of any rug. We recommend the following:
REGULAR VACCUUMING - not only keeps your rug clean, but pulls the fibers up to stand proud as the day you purchased your rug.
CLIP LONG ENDS - longer fibers may work to the surface after use or vacuuming. Never pull these ends out - clip them off even with the rug's surface in order to not cause any damage to the rug's weave.
CLEAN SPILLS AND SPOTS IMMEDIATELY - but never rub a spill. Always blot to prevent fraying of the yarns. Simple soap and water should remove most stains. However, be sure to test cleaning solutions in an inconspicuous area to be sure the cleanser will not damage the fiber.
PROFESSIONALLY CLEAN PERIODICALLY - to remove deep-down dirt and grime. Always use an Oriental Weavers rug pad for added non-slip safety and cushion underfoot.
ROTATE RUGS PERIODICALLY - regular traffic will begin to show eventually, so be sure to rotate rugs in order to create even wear across the entire rug surface.
learn more at Oriental Weavers Rugs

Oriental Weavers Rugs
Oriental Weavers provides a wide array of products ranging from area rugs in all sizes to wall to wall carpets for domestic use to custom made orders for the hospitality industry.Design and colour variety give us the capability to keep up with the latest fashion trends world wide and thus remain the number one rug and carpet manufacturer in an ever growing industry.
---
Profile | Website